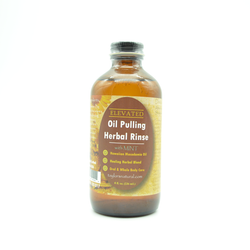 Oil pulling has been used for thousands of years in India as an alternative to whole oral care.
It is also called oil swishing. It is the act of swishing with an oil rinse in one's mouth in order to allow the oil to draw out toxins from the mouth and bloodstream.
The Elevated Oil Pulling rinse is specially formulated with Hawaiian Macadamia Nut Oil and Ancient Black Seed Oil infused into a proprietary healing herbal blend, made up of herbs that have been used for centuries as an aid in healing the mouth and body.
Proprietary Herbal and Oil Blend designed for whole oral and body care
Properties and Benefits: Cleansing, Healing and Detoxing of mouth and body
Plastic-free: this product comes in a glass bottle w/ metal cap
Size: 8oz
Mint Flavor
Directions:

Shake well then pour 1-2 TBS into a glass, or directly into mouth
Swish Vigorously (using your tongue to rub oil over problem areas) for either:
*1-5min. once per week (general, overall care) or *10-20min. per day (for DEEP cleanse).
Tips:
If brushing teeth with toothpaste, preform your oil pulling AFTER you have brushed, for Complete Powerful Oral Care!
Sit down and read a book, watch a movie, stretch, or get on your computer before oil pulling and time will fly!
Ingredients: Raw, virgin macadamia nut oil, ancient black seed oil, proprietary healing & cleansing herbal blend extract, and US-Grown Peppermint oil.