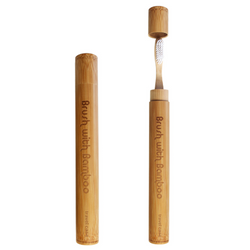 Keep your toothbrush safe and clean with this bamboo travel holder — made from 100% bamboo!
It's made from real whole bamboo stalks. No plastic parts are used, making this product entirely natural and biodegradable. Available in adult size, but kids toothbrushes fit too.
Each travel case has small air holes to release moisture.
Dimensions: Length:12", Diameter:0.98"
Please remember to wipe your toothbrush dry before placing it into the travel case. This will prevent swelling of the bamboo. Just a quick wipe is all that is needed.
Note: Brush not included 
End of life: 100% backyard compostable
Made sustainably in China.