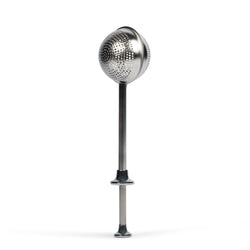 Did you know that most tea bags are made of plastic and release microplastics in your tea?
The solution: loose tea, and a tea infuser like this one!
This Sliding Stainless Steel Tea Infuser is a reusable alternative to single-use tea bags. Simply push the end of the infuser inward to slide the tea sphere, fill with your favorite loose leaf tea, retract the slider, and place the infuser directly into your cup or tea pot to steep the tea.
The perfect gift or tool for the tea lovers in your life.
100% Stainless steel.
100% backyard compostable packaging.
Washable, Reusable, Sustainable.
Made sustainably in India