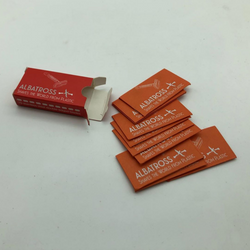 These high quality stainless steel replacement blades cost just $0.40 each (Each pack has 10 double-edged razor blades).  
In general, we estimate each blade lasting for about 5 shaves; however, this is highly dependent on the density and thickness of whatever is being shaved, be it a grizzly beard or very fine leg hair.  
With that said, you can use the following guidelines:
Low Shaving Frequency (1 or 2X per week):  3 Blade Packs per Year
Medium Shaving Frequency (2 - 4X per week): 4 -5 Blade Packs per Year
High Shaving Frequency (5 -7X per week):  7 -10 Blade Packs per Year
Albatross Blade Take Back Info
All of the blade sets come with an envelope you can use to collect your used blades in. The used blades can then be dropped off at our store or you can put them in your delivery bag, safely wrapped in an envelope. We ask that you put a maximum of 4 blade packs (40 Blades) in each envelope. If you order multiple blade packs we will include 1 Take Back Envelope for every 4 blade packs in your order.
The Albatross Blade Take Back Program was the world's first shaving Take Back program and represents years of hard work to create a totally closed loop production cycle. Albatross aims to make new (non-razor) products with the Take Back metal that have other direct environmental benefits; they don't just recycle, they Upcycle! The key to all of these efforts is having enough blades to scale to their goals. As such, we ask that you kindly consider participating in this Blade Take Back Program. We do appreciate it.