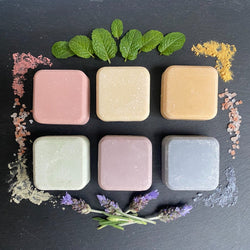 Sustainabar "Salt of the Earth" collection showcases the beauty of Mother Earth by using only clays, plants and minerals for colorants and scents. No artificial anything!
They've added pink sea salt to these 2.5 oz. bars to make them extra hard and long-lasting. The clays originate in France (green, yellow, and rose), Brazil (purple), Serbia (pewter). And pure essential oil blends match the natural colors.
Pink: grapefruit + palmarosa + spearmint
Purple: lavender + mint
White: lemon + lemongrass
Orange: orange + lemongrass
Pewter: bergamot + patchouli + cedarwood
Green: lime + basil (smells like fresh-cut grass!) The green bar has zeolite clay, which is a natural exfoliant - great on rough or dirty skin.
Tip: Be sure to use a soap lift to keep your bars out of water and increase their longevity (like this one, this one, or this one!)
Made in Albany, CA
Ingredients: saponified organic oils of olive, coconut, sustainable palm, castor; cocoa butter, lye, distilled water, essential oils, natural colorants