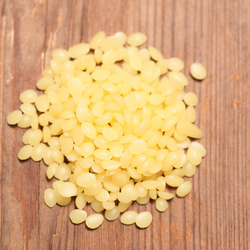 Packaging: This product comes in a glass jar, please return it when emptied to close the loop!
Shipping available, in a compostable paper bag.
------------------------------------ 
Beeswax is a high quality and safe ingredient used in many DIY recipes: face cleansers, lip balms, body balms, body lotions, soaps, candles, hair care products, etc
Beeswax has anti-allergenic and anti-inflammatory properties and soothe easily irritated skins. It also acts as a light barrier on your skin, that locks water and oils in and keeps your skin moisturized without clogging pores.  
Packaging: This product is delivered in a glass jar that you have to return when it's empty.
Size: 8oz w. / 16oz w.
Origin: USA