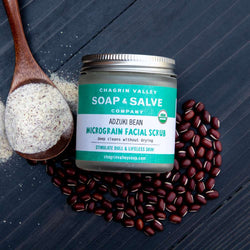 Multipurpose exfoliating organic Adzuki Bean micrograins gently buff away dull, dry skin, cleanse pores by absorbing excess oils, removing dirt and dead skin cells, and promote circulation.
Used in Japanese skin care regimens for centuries, Adzuki beans contain a natural foaming agent called saponin that helps cleanse pores by absorbing excess oils, removing dirt and dead skin cells, drawing out impurities, and promoting circulation.
Silky grains exfoliate without damaging the skin
Removing dead skin cells encourages fresh skin cell formation
Promotes a soft smooth texture and a radiant glow
Helps unclog pores 
Safe and gentle scrub for those prone to acne and blackheads
Vegan - USDA Organic - Cruelty Free - Non GMO - Plastic Free
Packaging: a glass jar with a metal lid. We will take it back when it's empty.
Directions:
Simple Facial Scrub:

 

Place about 1/2 teaspoon of powder in your palm. Add a few drops of warm water--enough to form a paste. Apply to wet face with wet fingertips, gently scrubbing in small circles, avoiding eye area. Rinse with warm water and pat dry. Optional--before drying, splash with a bit of cool water to close the pores.
The Simple Facial Scrub is great all by itself. If you like to experiment, there are many ways to use this versatile Organic Adzuki Micrograins!
Facial Mask:

 

In a small bowl, mix 2 to 3 tablespoons of powder with 1 to 3 teaspoons of water. Apply mixture to your face and allow the paste to remain on face until it dries a bit (about 10 minutes) and gently rinse. Fun Tip: replace the water with green tea, yogurt or pure aloe vera gel.


Exfoliate & Moisturize:

 

Make a paste with the Adzuki powder and warm water. Add a dollop of your moisturizer, face oil or olive oil, massage and rinse.


Exfoliate & Cleanse:

 

Lather your favorite facial soap or face wash in your hand and mix in a small amount of Adzuki powder. Wash your face and rinse.
Made in Ohio
Ingredients: Organic Adzuki beans.