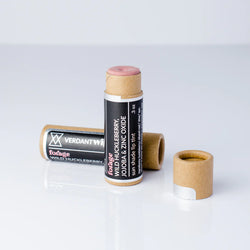 This plant-pigmented, moisturizing zinc oxide and local beeswax lip balm gives lips a hint of color with the equivalent of 20 SPF for outdoor adventures.
Wild huckleberries, alkanet root and rose kaolin clay create a rosy hue while a touch of lavender soothes. Light pink, with no pore clogging ingredients so it can be used as a cheek tint as well!
How to use: Push up from inside bottom of tube and apply directly to lips and cheeks. Use fingers to feather on cheeks if necessary. Layer for added color.
Size: 0.3 oz in a biodegradable tube.
End of life: When your tube is empty, remove the sticker (trash) and place the tube in your compost bin.
These statements have not been evaluated by the FDA. This product is not intended to diagnose, treat, cure, or prevent any disease. For educational purposes only.
Made in Colville, WA
Ingredients:  huckleberry†, alkanet root*, shea*, sunflower* and jojoba* oils, beeswax∞, mango butter*, rose kaolin clay, zinc oxide, non-GMO vitamin e oil, sweet orange*, lavender* and juniper berry* essential oils.
†wildcrafted *organic ∞local