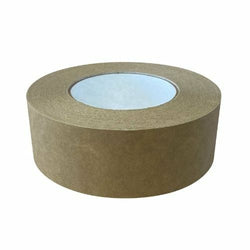 The uniqueness of this Kraft Tape can be accredited to the construction blend of kraft paper backing topped with a blend of rubber adhesives.
This tape is most suitable for lower-volume, earth-friendly carton sealing. It tears easily by hand.
Features a cross-linked (natural & synthetic rubber) adhesive & backing.

Pressure-sensitive sealing, not water-activated. 

Latex free

High tack made specifically for carton sealing
Size: 2" x 60 yds
End of life: Recyclable.
Made in the USA.