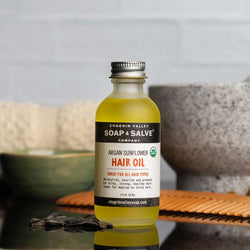 This organic hair oil contains Argan Oil, naturally rich in antioxidants, essential fatty acids, and natural squalene.
Argan deep conditioning is great for medium to thick hair.
Good for all hair types including color treated or damaged hair
Argan oil helps tame frizz and promotes shine and softer, more manageable hair
Argan oil contains Squalene, a natural component of our own skin oil or sebum,

 

helps the skin and scalp regulate its sebum production and 

adds natural moisture 
Antioxidants promote circulation as they nourish and protect hair
Essential fatty acids make hair stronger and stimulate growth, which helps prevent breakage and decrease shedding
Promotes shine, softness, and manageability
Nutrient-rich, hair strengthening sunflower oil moisturizes, nourishes and protects for silky, strong, healthy hair
HOW TO USE
For a conditioning treatment: Warm a 1 to 2 tablespoons of oil. Gently massage your scalp. The actual massaging action is more important than the quantity of oil. Then work the oil through your hair to the ends. Leave on for at least 15 minutes. Wash and style as usual.
For an intensive deep conditioning treatment: Wrap oiled hair in a warm towel for 30 minutes or longer or even overnight. Wash and style as usual.
For a lightweight leave in-conditioner: After shampooing for a healthy shine and to calm flyaways, place a few drops in the palm of your hand, rub palms together. Then comb your fingers thoroughly through the length of damp or towel-dried hair and work the oil through your hair to the ends to help treat split ends. Comb your hair thoroughly to get the oil evenly distributed.
PACKAGING: Comes in a 2 oz. glass bottle. You can return it to us when it's empty, or recycle the cap and the bottle separately.
Made in Ohio.
Ingredients: Organic argan oil, organic sunflower oil.