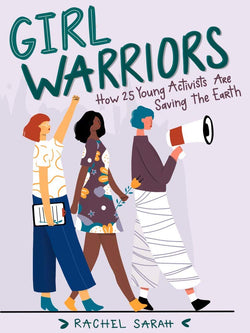 We are excited to present this book by local author Rachel Sarah!
Girl Warriors: How 25 Young Activists Are Saving the Earth tells the stories of 25 climate leaders under age 25. They've led hundreds of thousands of people in climate strikes, founded non-profits, given TED talks, and sued their governments. These fearless girls and young women from all over the world are standing up to demand change when no one else is.
A very inspiring book for all ages!
Reviews
"It gives me true hope to read about the phenomenal young women of Girl Warriors. Their fierce commitment to the future of our precious planet is as inspiring as it is vital." —Kate Schatz, New York Times bestselling author of Rad American Women A-Z and Rad Women Worldwide.
"A wonderful introduction to fierce, creative, and compassionate activists from all over the world." Mary DeMocker, author of The Parents' Guide to Climate Revolution, 2019 Oregon Book Award finalist.
"With courage, struggle, and triumph, these 25 fearless girls and women aren't just telling their own stories. They're telling the story of a world that was always possible and is now bursting into being." Eric Holthaus, author of The Future Earth.
"A powerful collection of hopeful, diverse, and fearless voices that ignites readers to dream loud, think big, take action, and make change." Mae Respicio, award-winning author of The House That Lou Built.
"This collection spotlighting the fierce and fearless leadership of 25 climate activists will inspire humans of all ages to rise up for a better world."Rebecca Woolf, author of Rockabye: From Wild to Child