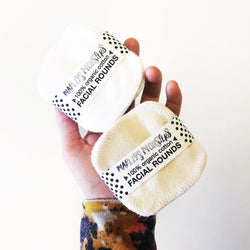 Switch to reusable Facial Rounds and ditch single use cotton balls!
This set includes a pack of 20, washable Facial Rounds in organic cotton. Each 2-ply Facial Round is made from 100% ORGANIC cotton flannel. Each pack replaces at least 1,000 single use cotton balls or pads REPEATEDLY for years. 
These reusable Facial Rounds are gentler on your skin and the environment. We chose the undyed organic cotton version because it contains no pesticides and no harmful dyes. Remove makeup, apply toners or serums and more! 
Edges are serged for durability and to prevent fraying
Size: 20 pad of approximately 3" diameter each
Care: Machine wash warm with like colors, dry in dryer. Pads are not pre-washed, so expect some shrinkage.
Handmade in Eugene, Oregon