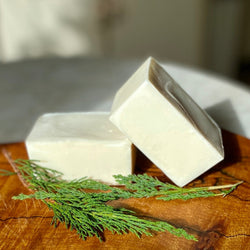 Oodles of suds! An insanity of FROTH! Simply rub on your dish sponge and get to work. And feel good about yourself because you've eliminated another plastic bottle from our precious planet.
California Sunshine Dish Soap Brick: scented with a bright lemongrass and lemon essential oil blend.
This solid dish soap can be used with any of our natural sponges and brushes.
Made in Albany, CA
Ingredients: Coconut oil, castor oil, lye, citrus and lemongrass essential oils.