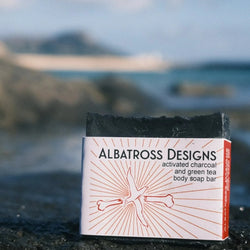 This activated charcoal soap with green tea is a fantastic cleansing soap for your face and body. Activated charcoal detoxes your skin. Green tea is renowned for its antioxidant, anti-inflammatory, and antibacterial properties. Rosemary has anti-inflammatory and healing properties. Kaolin clay will help to very gently slough away dead skin cells while also absorbing impurities from your pores.
All-in-all this soap is a powerhouse for the skin.
Sustainability: Albatross soaps are made to further improve your bathroom routine through the natural healing power of a variety of oils, herbs, wildflowers and clays. Bar soaps function as well as any liquid soap and help to reduce the extra carbon emissions associated with transporting the extra water weight found in liquid soaps. Bar soaps also forego excess plastic packaging and plastic bottles.
Ingredients:                                                                                                                      Water, Rice Bran Oil, Coconut Oil*, Shea Butter*, Lye [Sodium Hydroxide], Castor Seed Oil*, Avocado Oil, Activated Charcoal, Sodium Lactate, Sugar, Jojoba Oil*, Kaolin Clay, Peppermint EO, Lavender EO, Rosemary EO, Tea Tree EO, Green Tea Extract
[* Organic] [EOs are ECOCERT/COSMOS approved] [Herbs used are wildcrafted or organic as possible, though supply can vary based on availability]