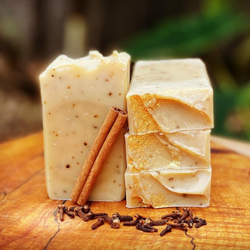 This locally made soap contains real chai tea, goat milk and spicy essential oils that capture the essence of fall.
The scent is a blend of essential oils: cinnamon, clove, orange, vanilla-like benzoin, and warm woodsy ho wood. A perfect gift for the chai tea lover!
Tip: Be sure to use a soap lift to keep your bars out of water and increase their longevity (like this one, this one, or this one!)
Made in Albany, CA
Ingredients: Saponified organic oils of coconut, olive, sustainable palm, castor; shea butter, lye, distilled water, essential oils, goat milk.