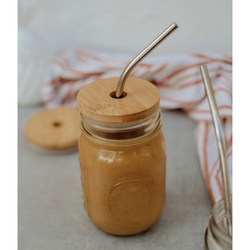 Why buy a new glass jar when we have so many at our disposal?
These solid bamboo lids are perfect for taking your smoothie or coffee on the go! You don't need another coffee mug, you just need a lid to upcycle and old jar.
The hole is wide enough to fit all our straws, even the boba straws!
The lid has a silicone gasket.
2 sizes: regular and wide mouth.

Care: do not place in microwave or dishwasher. Clean with soap and water, let dry thoroughly.
Straw and jar not included