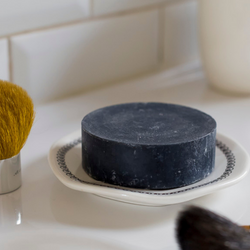 With each bar of soap you avoid approximately 0.2lb of plastic waste*!
Experience an all-natural extra cleansing boost in this black beauty of a soap bar, selected as an Eco-Excellence Award Finalist!
Steam-activated bamboo charcoal has increased surface area and micro-pores, enhancing the ability to naturally lift and wash away dirt, debris, excess oil, and impurities. When you use this black soap bar, fine charcoal particles light massage leaves your skin feeling purely fresh & clean.
A facial, hand, or body soap, can also be used as an effective shampoo bar for oily scalp & hair.
Fragrance-Free Unscented
Vegan / Non-GMO / Gluten Free / Free of paraben, phthalate, SLS and detergent / Cruelty free / No animal product
Sappo Hill is a family-owned business in beautiful Ashland, Oregon. For over 40 years, Sappo Hill has been making exclusively plant-based soaps according to traditional cold-process methods. Its recipes use whole natural, cruelty free & organic ingredients exclusively.
The soaps are wire-cut, air dried and aged to create a long-lasting soap of exceptional mildness.
Made in Ashland, Oregon, USA.
Ingredients : Non-GMO food grade oils of sustainable palm and coconut, water, sodium hydroxide*, glycerine (plant based), activated bamboo charcoal. (*Used to make true soap; none remains in fully saponified and superfatted soap bar)
*comparison with the use of a liquid facial soap.