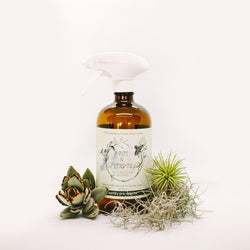 Stains no more!  Combine the power of Root & Splendor Laundry Concentrate with the Laundry Pre-Spotter Stain Remover for the best laundry experience imaginable!
This 100% natural, non-toxic, and eco-friendly stain remover achieved premium results in third parting testing.  Root and Splendor unique, proprietary blend targets each and every stain source, including protein-based stains, fat and starch stains, tannins, dyes, dirt, blood, oils, grass, sweat stains and so much more! 
Treat your clothing and linens to safe, plant-based solutions that will both deep clean and maintain fabric quality. 
Directions: Simply spray onto the affected area and wash!  For the toughest stains, let the Pre-Spotter sit for up to 30 minutes before washing.
Because this product is very concentrated, we highly recommend the use of the foaming spray. You can later refill your glass spray bottle with the 20 fl.oz refill, by using a small funnel.
Safe for all fabric types. 
Packaging:
16 fl.oz foaming trigger

glass spray bottle

.

20 fl.oz refill in a glass jar
Made in Vista, CA
Ingredients: potassium cocoate, coco glucoside, vegetable glycerin, distilled water, enzyme blend (protease, amylase, pectinase, mannanase, and cellulase), and isopropylideneglycerol.