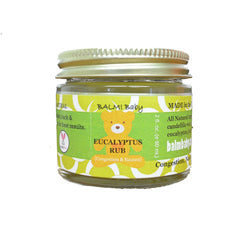 An all natural rub for chest and tummy, congestion & nausea.
This Clearing Rub is an herbal infused, all natural balm for aiding in treating stuffy noses and chests all year long but especially during the cold/flu season. It also helps with nausea, morning sickness, motion sickness and can also be used as an amazing deep tissue and muscle balm!
We love multi-use products: they take less space in your cabinets and when you travel, and they help with waste reduction.


Natural decongestion aid, perfect for the cold / flu season
Perfect for sore muscles too
Hand Made in the USA
Vegan
Main ingredients come from a Big Island organic farm
Comes in a glass jar with metal lid, plastic-free
Cruelty Free: ingredients and finished products are NOT tested on animals

Clean formula
To relieve congestion: Apply a small amount to chest, back, under nose, and gently massage in. Apply before sleep for best results.

To relieve Nausea / Motion Sickness: Apply a small amount on ALL of the following areas: behind the ear lobes and tummy, and gently massage in. Apply under nose and BREATHE IN!
Ingredients: organic extra virgin olive oil, organic candelilla wax, vitamin E-T50, organic essential oils of eucalyptus, spearmint, pine and lavender.

**This product is NUT FREE
**Stop use if irritation occurs.
**Recommended for 3 year-old and up
**Always start with a tiny amount and test on skin, especially for the younger and more sensitive skins.