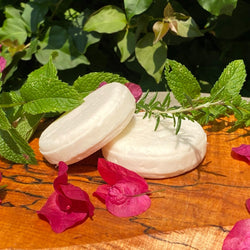 Sustainabar shampoo bars contain creamy kokum butter, Vitamin B and Vitamin E, to keep your locks luscious, full and healthy. Similar to a Lush syndet bar (but almost twice as big!), this super bubbly 80-gram shampoo bar will last for up to 80 washes (the equivalent of two big bottles of liquid shampoo). You can be sustainable AND save money. It's a win-win situation!
Rosemary and peppermint essential oils for a bright, natural scent.
Tip: Be sure to use a soap lift to keep your bars out of water and increase their longevity (like this one, this one, or this one!)
Made locally in Albany, CA
Ingredients: Sodium Cocoyl Isethionate, Cocamidopropyl Betaine, Kokum Butter, Behentrimonium Methosulfate, Sodium Lauryl Sulfoacetate, Panthenol (vitamin B5), essential oil, preservative.