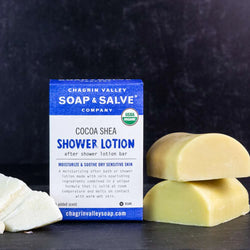 Hydrate your skin with this body lotion bar that works with the humidity and warmth of the shower to create softer, smoother skin. Enriched with shea and cocoa butters to nourish dry, itchy skin.
Since we have always been told to apply moisturizers as soon as we hop out of the shower, why not use your shower as the optimal environment for skin hydration.
This in-shower body lotion bar works like a conditioner for your skin. Using the humidity and warmth of the shower, it helps seal in the moisture on your warm wet skin to create softer, smoother skin. This rich, emollient solid shower lotion, made with unrefined shea, cocoa, and mango butters, has excellent skin softening and conditioning properties.
Melts on contact with warm wet skin

Unrefined natural 

butters are 

rich in natural vitamins and nutrients

Nourishing organic butters target dry skin, penetrate deeply
Creates a protective barrier to soothe and moisturize dry, sensitive or itchy skin
Leaves skin feeling soft, smooth and naturally healthy 
No added scent--just the delicious aroma of 

unrefined cocoa butter combined with the nutty, earthy scent of unrefined shea
DIRECTIONS
Great for the bath or shower: After soaping & rinsing, massage the bar over your warm wet skin. Pay special attention to extra dry places. Your warm skin will readily melt the nourishing bar. You can rinse a bit or for extra moisturizing just pat dry.*
As a hair treat: rub some butter on your hands and run your buttered fingers through the length of your hair!
As a bath treat: cut a sliver off the bar, drop into your tub and watch as it melts away releasing skin loving ingredients.*
As a lotion bar: No time for a bath or shower--rub the nourishing oils and butters into dry skin areas.
* When using in bath or shower, always take care as your bath or shower may become slippery.
Made in Ohio.
Ingredients: Organic Cocoa Butter*, Organic Virgin Shea Butter*, Organic Mango Butter
*fair trade