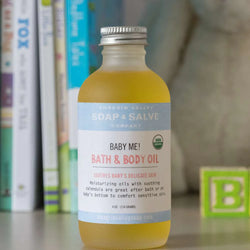 Nourish delicate skin with the best ingredients from nature. A gentle, unscented organic baby oil formulated with moisturizing oils and soothing calendula to nurture and protect sensitive baby skin.

Calendula is a gentle and soothing herb with anti-inflammatory properties. Due to its mild nature, calendula is a great herb for babies and individuals with sensitive skin. Calendula oil is especially helpful in soothing diaper rash and other forms of baby skin irritation.

Baby massage provides nurturing together time. Like cuddling, a baby massage conveys love and affection for the baby. It enhances the emotional bond, provides a calming experience, improves sleep patterns, and may help decrease crying. Massage also improves circulation, helps develop sensory awareness, and can help soothe infant tummies and support digestion.

All Natural, Certified Organic, Vegan, Cruelty-Free, Non-GMO
Use after a bath or on the baby's bottom to soothe dry, chafed, irritated and sensitive skin
Young babies thrive on touch-- this is a great natural oil for a loving, soothing baby massage.
A great spot treatment for baby eczema!
Helps relieve cradle cap! 
A soothing natural, unscented body oil for anyone with sensitive skin!
Directions: 
For a soothing baby bath: Add 1 teaspoon to warm water in the baby bath tub.
For a skin-softening grown-up bath: Add 2 tablespoons to warm bath water. Soak for 20-30 minutes and feel stress slip away!
For a loving massage: Warm the oil in your hands or place the bottle in warm water, massage and feel body tension melt away! 
For a delicate body oil: Apply to damp skin after a shower or bath to create an organic lotion that helps dry skin fade away.
For a moisturizing after-shower treat, use in a sprayer.
While body lotions may contain some moisturizing ingredients, they are mostly made of water (notice the first ingredient listed). Our body oils can be used from head to toe instead of lotion.

If you enjoy the application "feeling" of a lotion, try massaging our body oil into warm, damp skin right after a bath or shower. Wait a few moments and gently pat dry. (Do not rub the skin dry!)

For External use only. When using any new product on infants or young children we recommend a patch test for allergies or sensitivities
Size: 4 fl.oz
Packaging: Glass Bottle with an orifice reducer, metal lid. Return it to us when it's empty or recycle the glass and the metal.
Made in Ohio
Ingredients: Organic Sunflower Oil, Organic Jojoba Oil, Organic Calendula, Organic Rosemary Oil Extract (ROE)