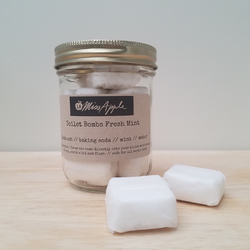 Just like a bath bomb, but for your toilet!
It cleans perfectly, leaves a nice fresh minty smell and will help you avoid another plastic bottle. It's fun and super easy to use, because who enjoys cleaning toilets, really?! Plus this all natural recipe keeps nasty chemicals out of your bathroom.
Cruelty-Free • Paraben-Free • Petrolatum-Free • Synthetic Fragrance Free • Plastic-Free • Palm Oil Free
How to use them: toss a toilet bomb in the toilet bowl; it will start fizzing, the little tablet is doing its work! Wait 10 minutes, use a brush if necessary.
Ingredients: Soda ash, baking soda, mint, water
Sold by the unit.
Made in Los Angeles, CA